ENASA MODELS

Of the eighty-four chassis manufactured by ENASA for Pegaso Z-102 twenty were bodied by the factory ENASA. Of these twenty, about half were berlinettas and the rest were divided among the spider Rabassada, Pedralbes, Montjuich, "El Cúpula" and the two speed records vehicles known as Bisiluro or "Bitorpedos".
PEGASO Z-102 BERLINETTA ENASA (1951)
The Z-102 project was developed with the utmost discretion to accentuate the media impact and presented in the hall of the factory on 20 September 1951. The car drawing is the first Z-102 made, it is the prototype with doors opening forwards, without nerves in the wheel arches and side vents, then added his successors. The only unit that has louvered louvers in the bonnet and in the rear fin behind the wheels.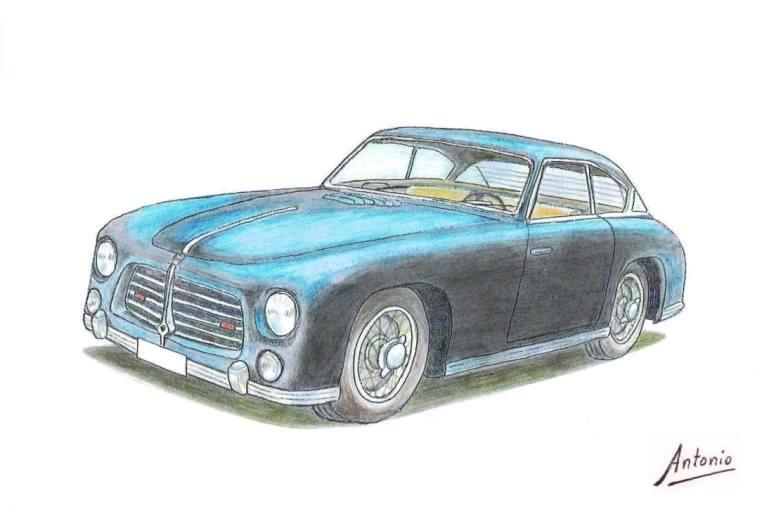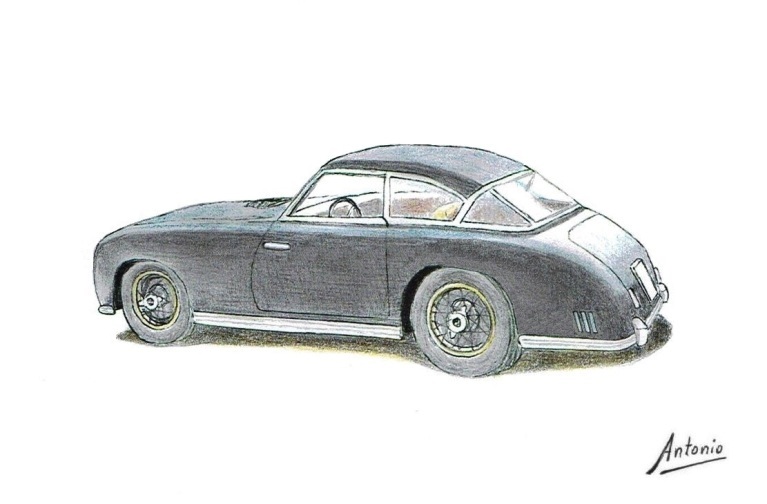 Pegaso Z-102 Berlinetta Enasa Prototipo (1951)
After the prototype, ENASA manufactured a four units preproduction which manufacturing began in mid-1951, they all had the smooth side (without nerve above the wheel arches) and the front grille to the same level as the headlamps (they were modified moving forward regarding headlights later). Its body is naming BE 1P, also known as "Barcelona" model.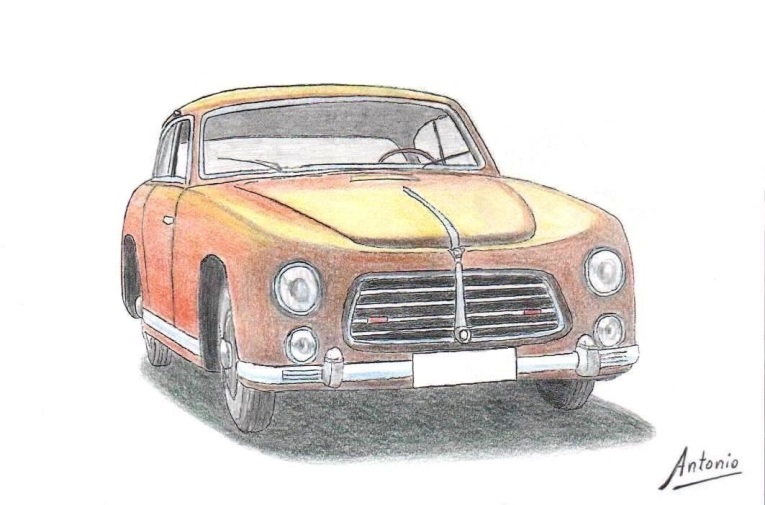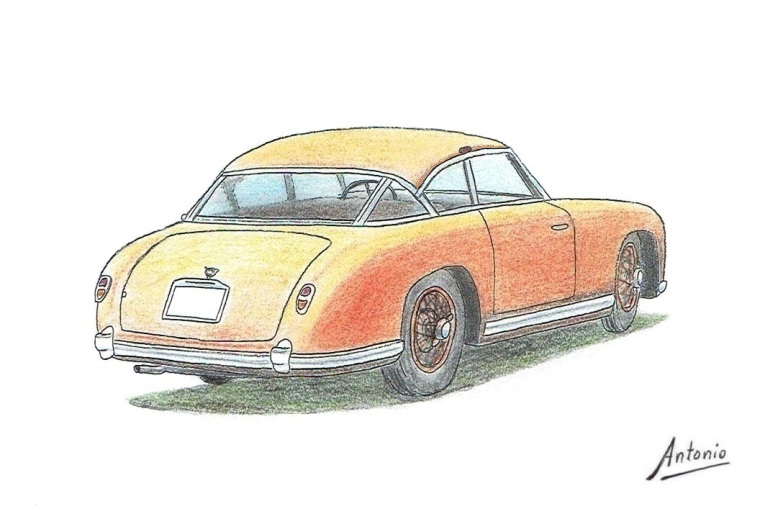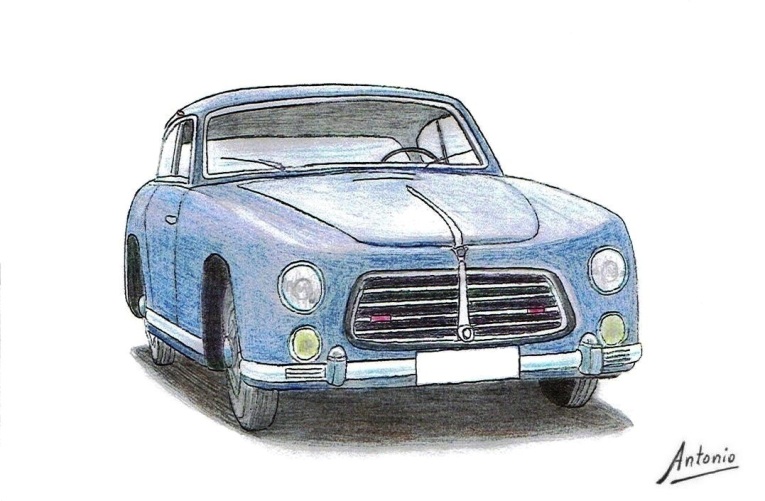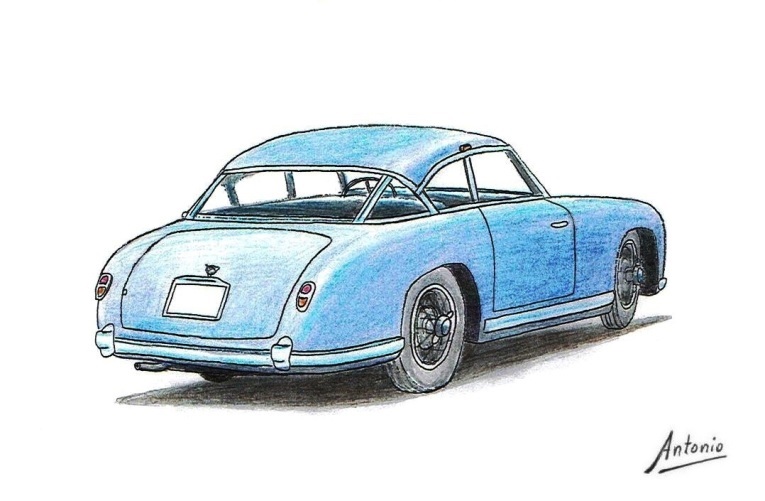 Pegaso Z-102 Berlinetta Enasa 1P (1951)
The first configuration of the following model was a "false cabriolet", as it is one of the first units built, was in the act of presentation of the Z-102 first in La Sagrera (Barcelona), then in Paris on the occasion of the Salon Motor. It Is later converted by ENASA in Berlineta 2nd series. It was originally equipped with engines of 2,472 cc 75x70, then still in test period, the drivers his ENASA wheel Celso Fernández and Joaquín Palacio alternated. This model won the first prize of elegance in Dauville in 1953, then was painted in ivory white and carried a 2.8 engine. Currently it is painted in green as shown in the following picture and is the Pegaso Z-102 oldest preserved. Exhibited at Autoworld Brussels (Belgium) 2018.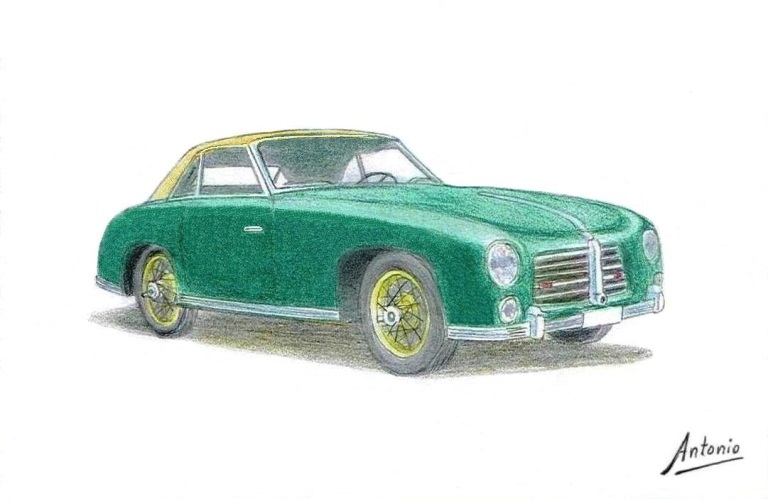 Pegaso Z-102 False Cabriolet Enasa 1P (1951)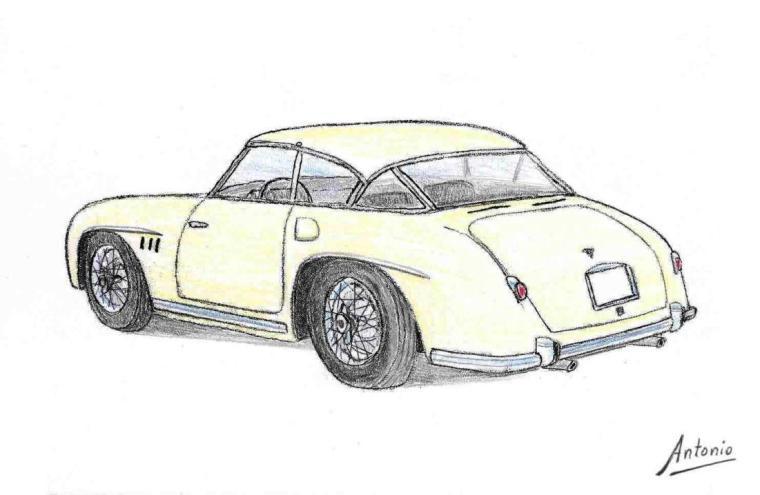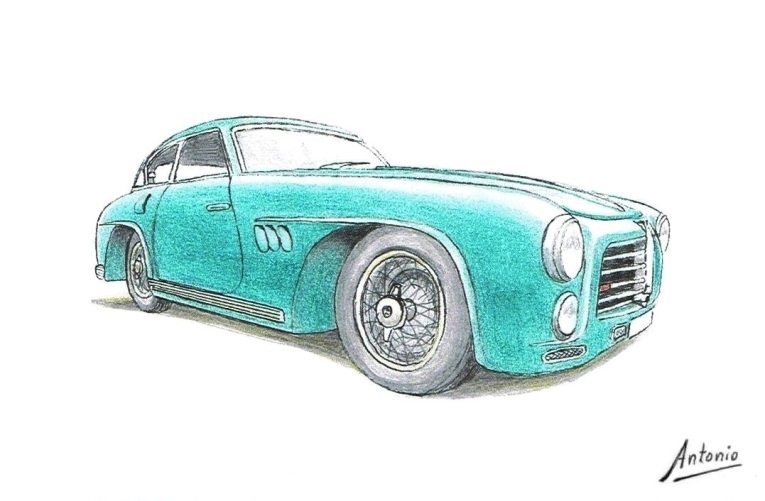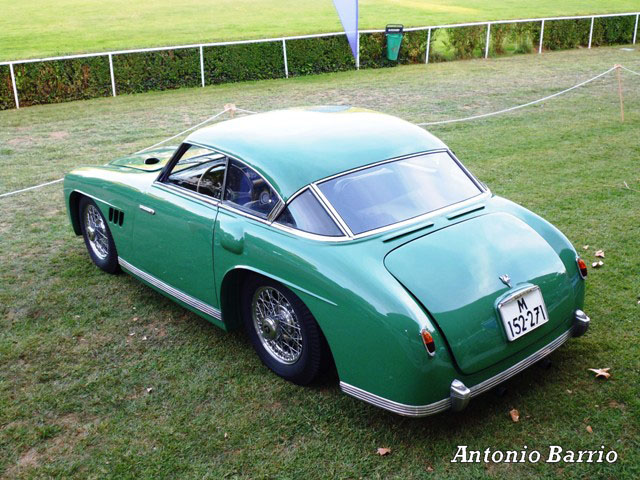 Pegaso Z-102 Berlinetta Enasa 1P (1951)
The next car was injured in late 1951 at the mountain pass of Ordal by Celso Fernández testing. Reconstructed in early 1952 with new front precursor BE 2 is still in perfect condition. Exposed in ClassicAuto Madrid 2018.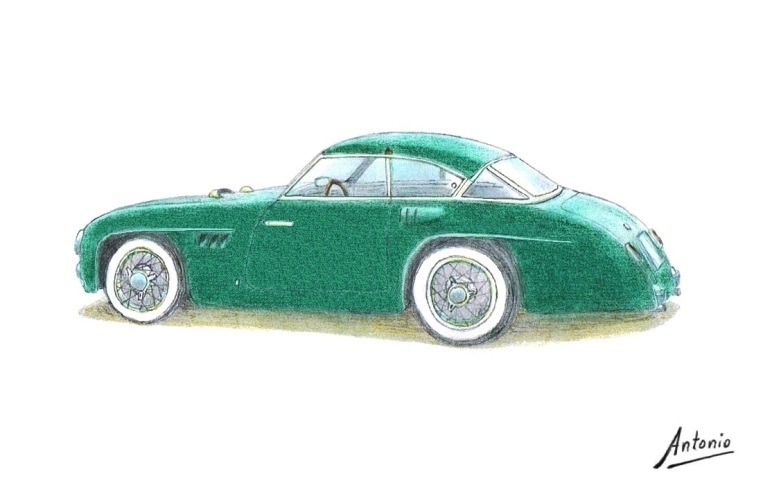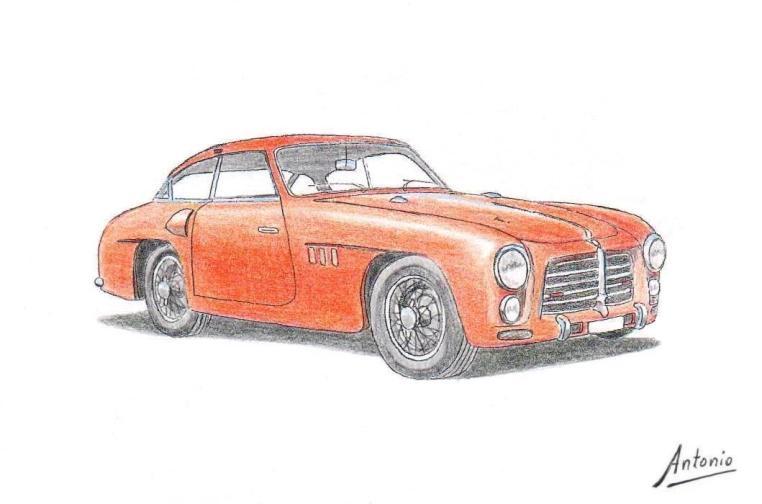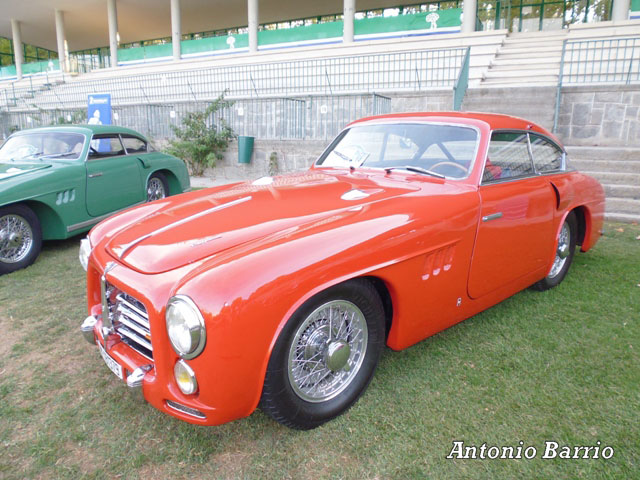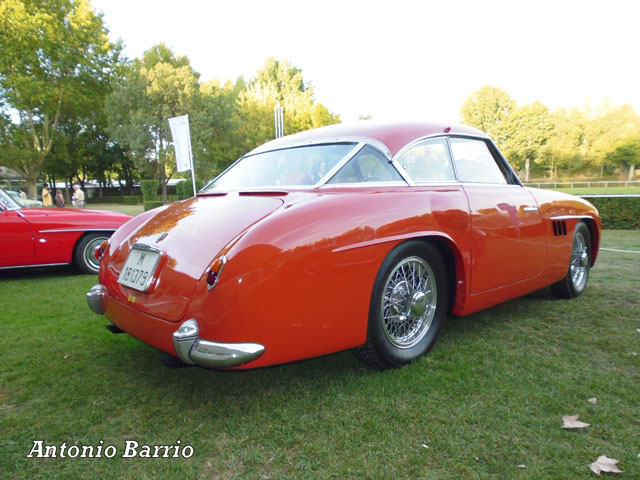 Pegaso Z-102 Berlinetta Enasa 1P (1951)
This model of the second series is the first Z-102 with RHD, to save weight was equipped with aluminum doors (with sliding windows). The front grille with horizontal slats was replaced by the two crossbars (which has since identify Pegaso) and air intakes above the license plate.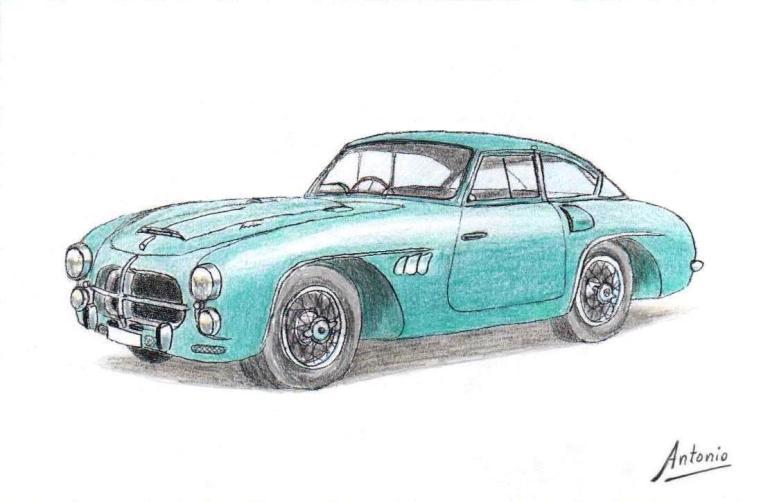 Pegaso Z-102 Berlinetta Enasa 2 (1952)
The following drawing vehicle was used by ENASA for testing and catalog photos. No vents behind the front wheels and has closed steps wheel. It failed to sell and was scrapped in late 1954.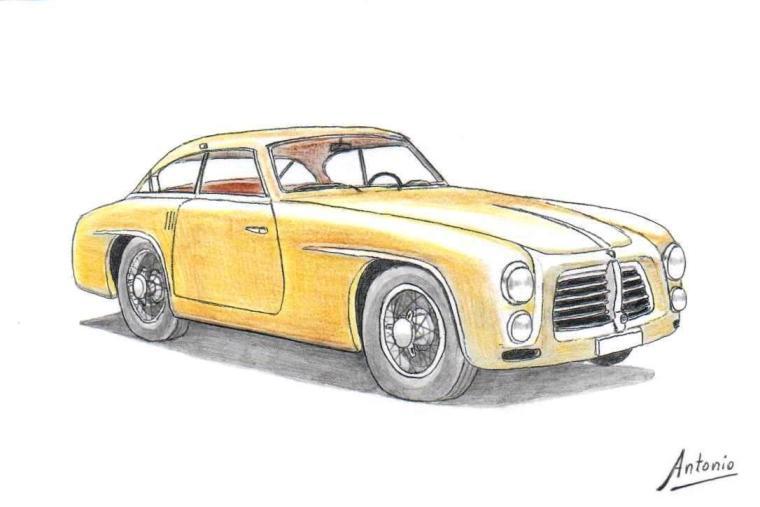 Pegaso Z-102 Berlinetta Enasa 2 (1952)
The first owner of the next Pegaso makes reform front by Galo Mateo in 1957, Serra style SS 2. It was restored in 1957 situation, painted blue, red interior. Then his owner becomes body in convertible, removing SS 2-style on the front. It is currently in perfect conditions and running.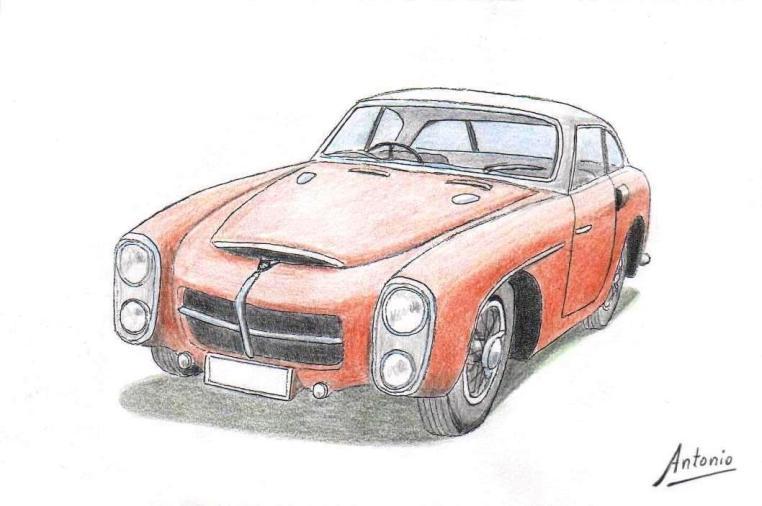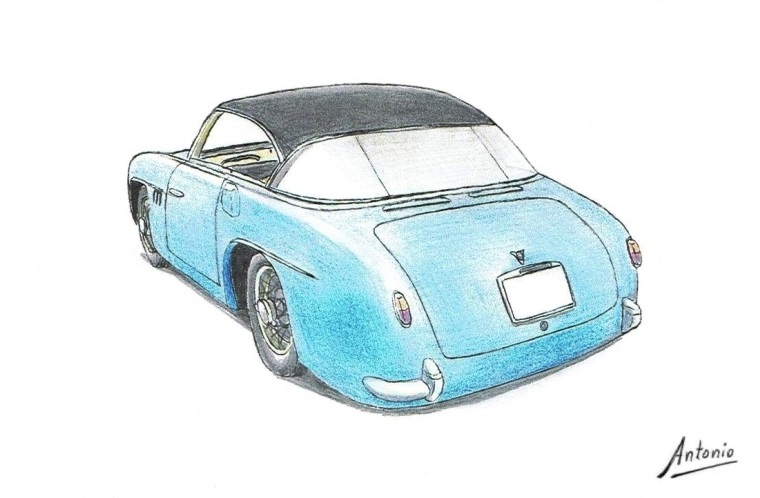 Pegaso Z-102 Berlineta Enasa 2 (1952)
The Z-102 drawn below is one of those that participated in the 1952 Monaco Grand Prix, painted in red with the hood in yellow, with lightened competition doors, sliding windows and a divided "v" shaped windshield. In 1953, a motor with a compressor was installed for testing, with its corresponding nozzle in the bonnet, which it currently maintains, although it no longer has the compressor. Change ownership several times and color, currently is blue in USA and participated in Concourses d´Elegance of Pebble Beach and Amelia Island.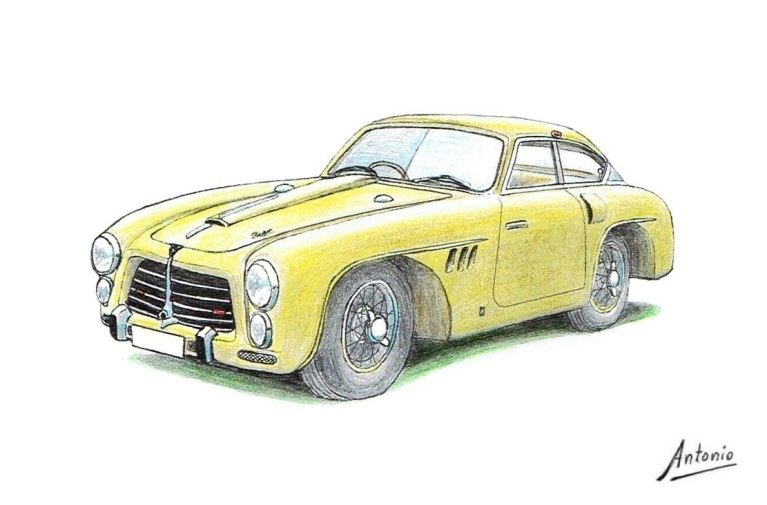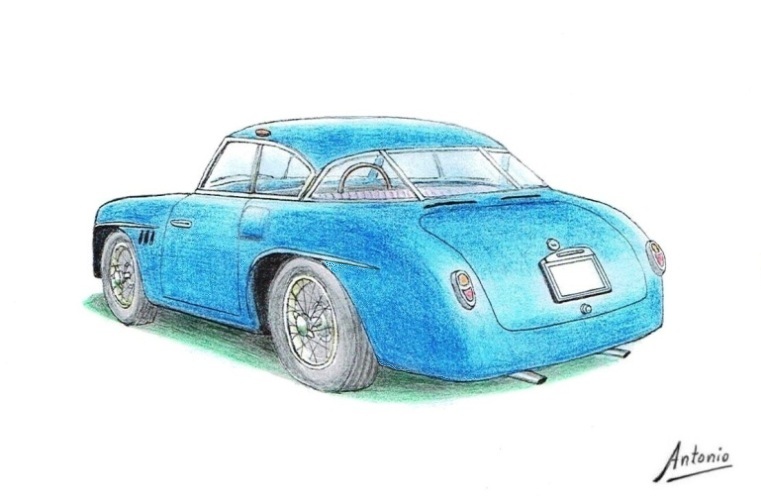 Pegaso Z-102 Berlineta Enasa 2 (1952)
PEGASO Z-102 BERLINETTA ENASA SPECIAL (1952)
This unique exemplary, nicknamed "El Cangrejo" was assembled in 1952, built entirely of aluminum, with holes in the doors in the frames of the chassis made with the purpose of lightening. Spartan interior, without trimmings or upholstery and special competition seats, exterior fuel filler cap.
and was dedicated to experimental purposes, testing different mechanical (including 2,500 cc engine with compressor) carrying with each of them a different engine hood, with a nozzle when it had a compressor, with grilles when it did not have it.
Esthetically it derived from the ENASA berlinetta series, differs from them in many details such as the windshield into two sections in "V", bonnet with vents, the most significant of his wheel arch oversized and recessed on its back, what which gives a strange and aggressive look.
Although its purpose was to "drive laboratory" this did not prevent the pilot-tester of the brand Celso Fernández to take him to the starting line of the 4.900 meters of the XIII hill climb to the Rabassada (Barcelona, 17 May 1953) measured with rival vehicles like Maserati F2, 1100 Cisitalia "monoposto" Jaguar XK 120, Allard, and other Pegaso Z-102. For the occasion engine 2,477 c.c. was mounted equipped with Roots low-pressure compressor. The test was a success for Pegaso and which was won by Joaquin Palacio (Pegaso Spider SE R) with a time of 3'48'' and Celso Fernandez was classified in second place, investing 3'58''4 to complete the course an average speed of 73,99 Km/h.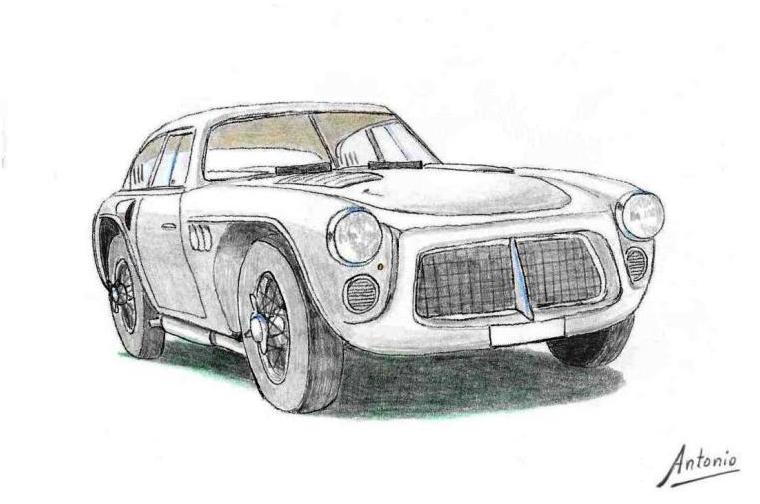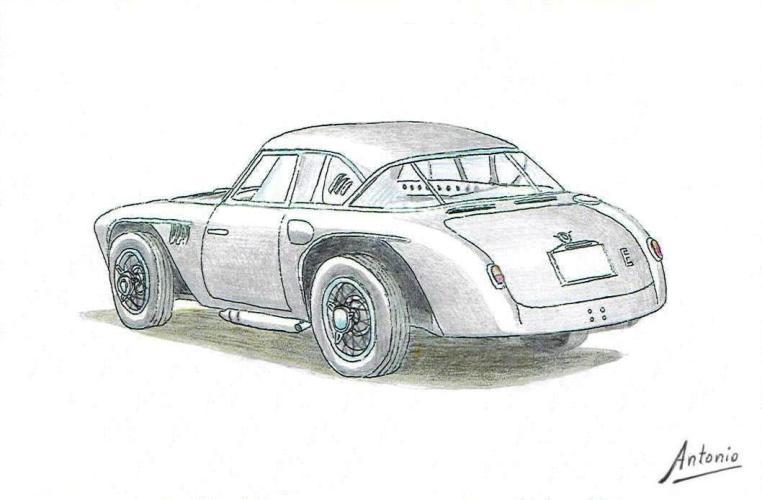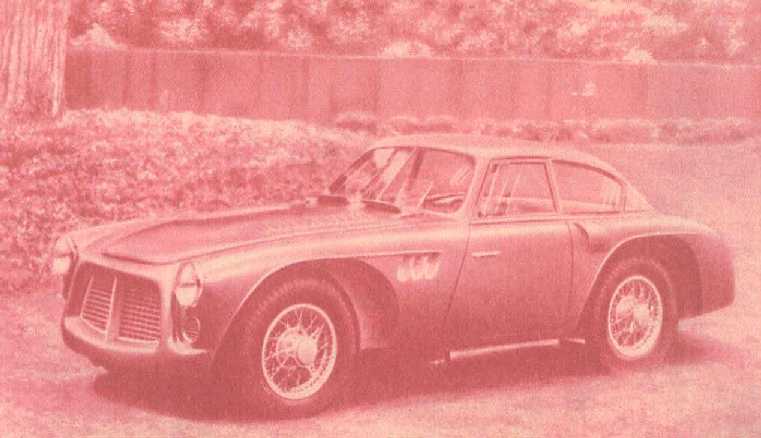 Pegaso Z-102 Berlinetta Enasa Special (1952)
In opinion of the usual driver of the vehicle, Celso Fernández,"it was the best of the Pegaso Z-102 manufactured". Shame that a lamentable fire in December 1953 ended the career of the more than 100,000 km traveled this great thoroughbred ...
PEGASO Z-102 BERLINETTA CUPULA (1952)
Enasa stylists designed two berlinetta Cúpula following the Touring Superleggera technique as vehicles for exhibitions. A new -plexiglas type- material for manufacturing the large rear window dome shaped. The first unit, ivory color, was exhibited in the salons of London and Paris and later scrapped.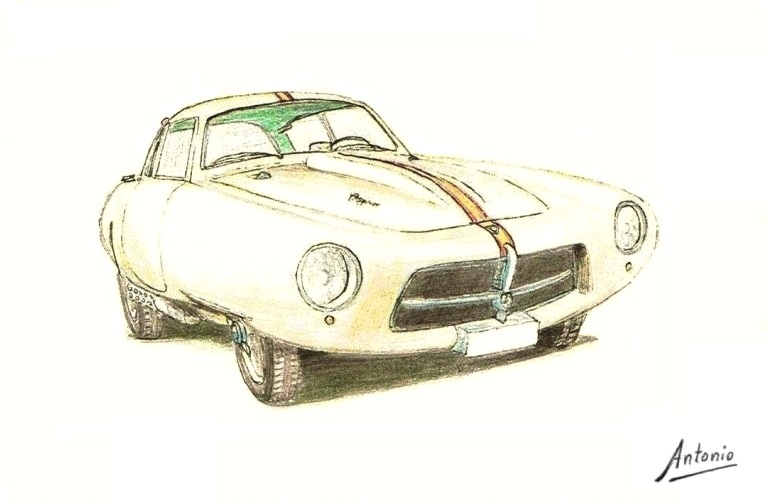 Pegaso Z-102 Berlinetta Cúpula 1 (1952)
The second unit was presented at the New York International Auto Show 1953 through US distributor Brewster. The model was acquired by Santo Domingo dictator Rafael Leonidas Trujillo, so it is also known as the Dominican. Another name given to this model is Rosa de Thé due to yellow to red gradient at the bottom. On the death of Trujillo, its new owner removed the dome and makes spider. In 1976 a new owner of Mexico, with the help and collaboration of "Friends of the Pegaso Sport", restores, building of new roof and dome of it.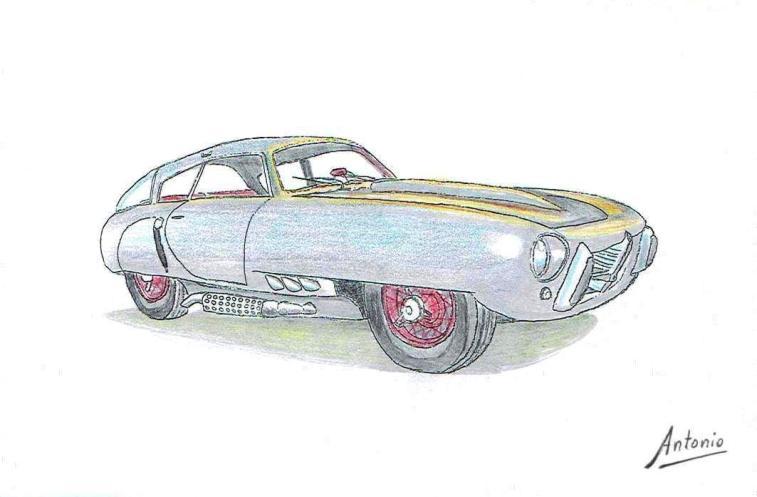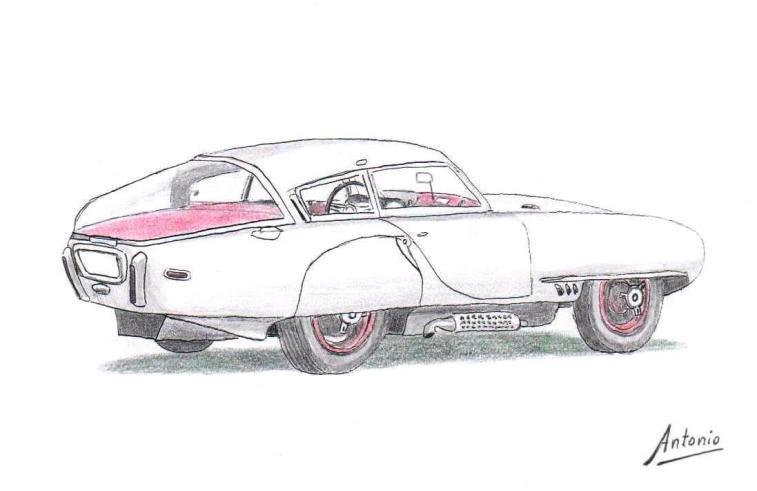 Pegaso Z-102 Berlinetta Cúpula 2 (1952)
Evert Louwman buy this car and presents in year 2015 at "Concorso d'Eleganza Villa d'Este" in yellow color, with a red stripe tires after an extensive restoration. In 2016 it win the prize for best sports at Amelia Island Concours d'Elegance (Florida) and has been voted Car of the Year by International Historic Motoring Awards. Now it can be visited at the National Automobile Museum Netherlands (Louwman Museum).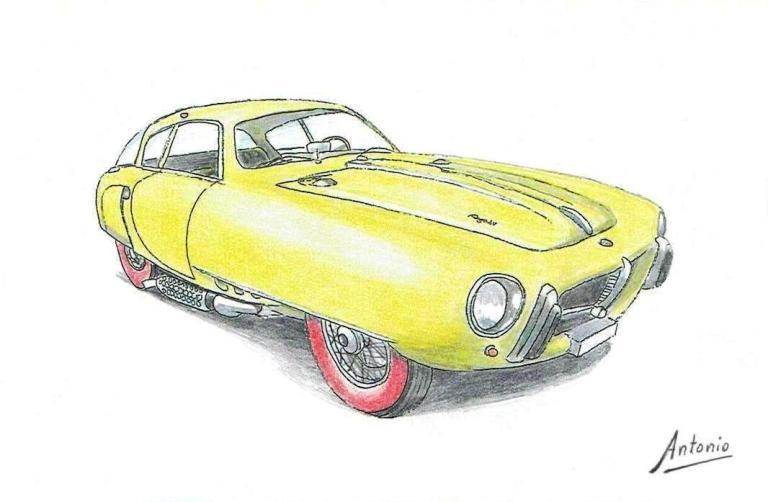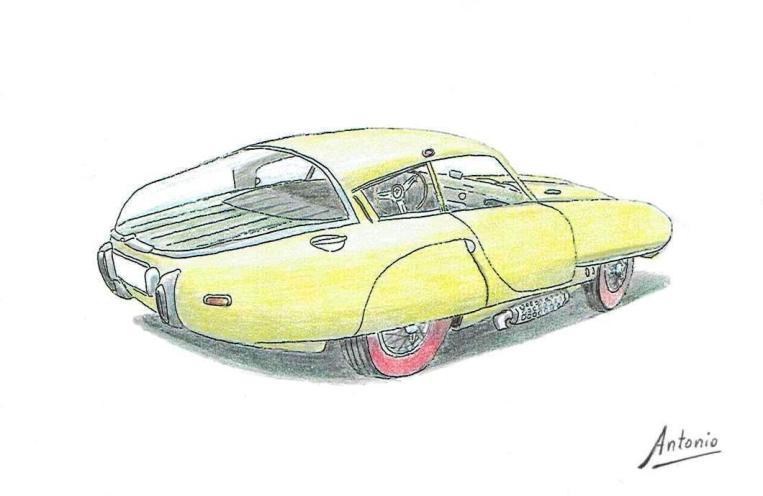 Pegaso Z-102 Berlinetta Cúpula 2 (1952)